​
Happy Sunday Reader!
​
Happy Easter! Whether you celebrate the religious aspects of Easter, or just enjoy a festive holiday with family or friends, I hope you all have a great Sunday!
Self care tip.....
Between our natural tendencies and active self-sabotage that we have discussed recently, it is a wonder that any self-care happens at all! I am exaggerating a bit, but making self-care a regular and beneficial part of your life takes some effort and intention. Here are several tips for making self-care easier to include in your daily life!
Schedule it- Put a reminder on your phone, use an app, or put a note where you will see it to ensure you do it!

You are worth it- Each time you do self-care you are reminding yourself that you and your wellness are a priority in life. Keep reminding yourself of this as you add new self-care habits. You are worth it!

Start small- Don't start out with 15 different self-care ideas to do each day. Find one meaningful self-care activity to add to your life habitually, and then add a second one. Repeat until your life is full of self-care!

Pair it with an existing habit- Habit stacking, or pairing an existing habit or task with a new habit is a great way to include new habits in your life. If you want to add a habit of doing lotion and skincare daily, stack it with your shower habit (hopefully you have a regular shower habit!). Whenever you get out of the shower, that action triggers you to add lotion to your skin and apply any other facial or body skincare products.

Remove any barriers- If there are things you need to do these self-care activities, remove any physical or other barriers so that it is as simple and streamlined to start. For the lotion example earlier, don't put the lotion deep under the bathroom sink so you have to dig it out each day. Leave it on the counter where you can easily see it for the first several weeks to develop that self-care habit.

Don't be afraid to fail- Try new things, even if you don't think they will stick long term. You might learn something new, or your brain might be excited by the novelty and change in routine! Either way, you are getting something out of it!

Do it together- Ask a friend to join in the self-care if it would help keep you accountable! Remember that we are our own worst enemy when it comes to self-sabotage!
Etsy Find of the week.....
One of the easiest ways to do self-care is to have someone else plan it or do it for me! These self-care boxes are just that! Someone else plans it for you, ships everything you need to your doorstep, all you have to do is the part that feels good! How great is that!
​This box specifically focuses on having a self-care mental health day.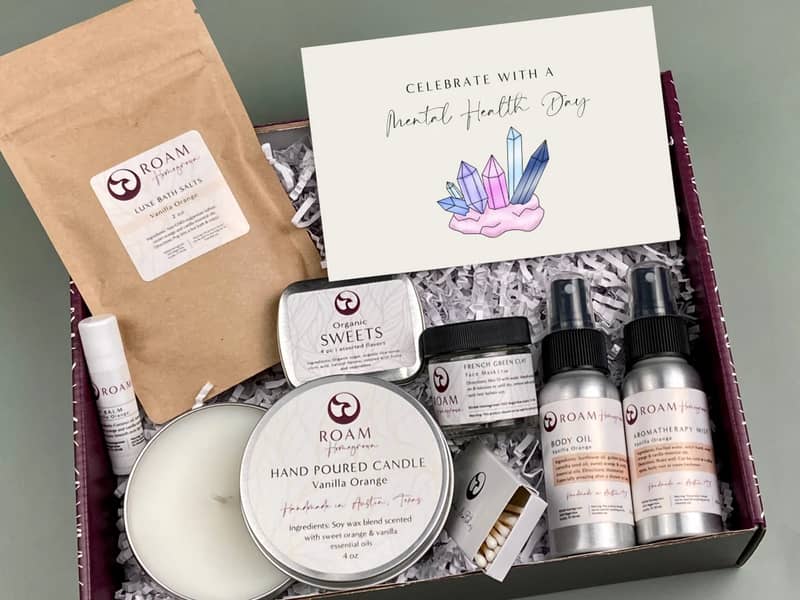 ​This is the perfect box to get when life gets tough!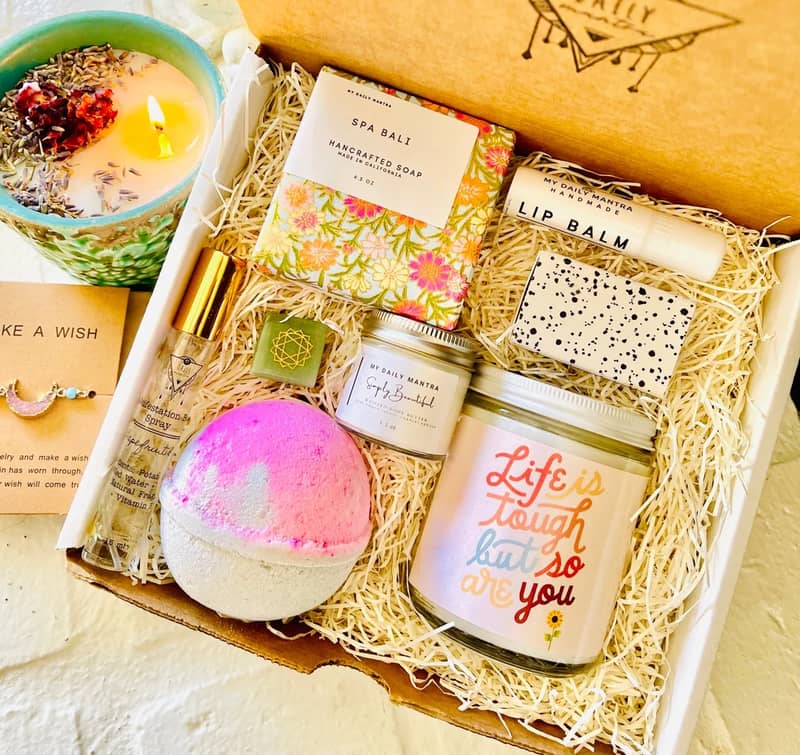 Everyone can use some sunshine and a little gift from this box!​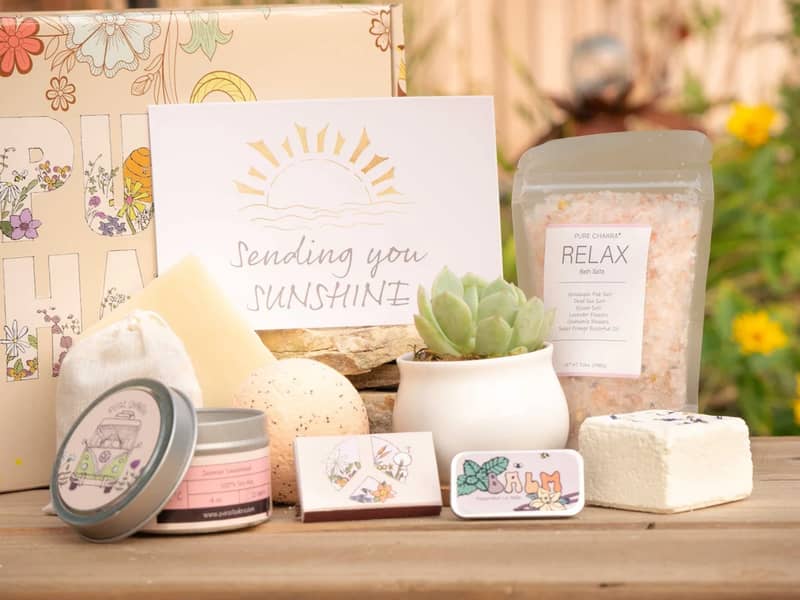 A cozy and spa like gift is the perfect box to share with a friend for an at home spa day!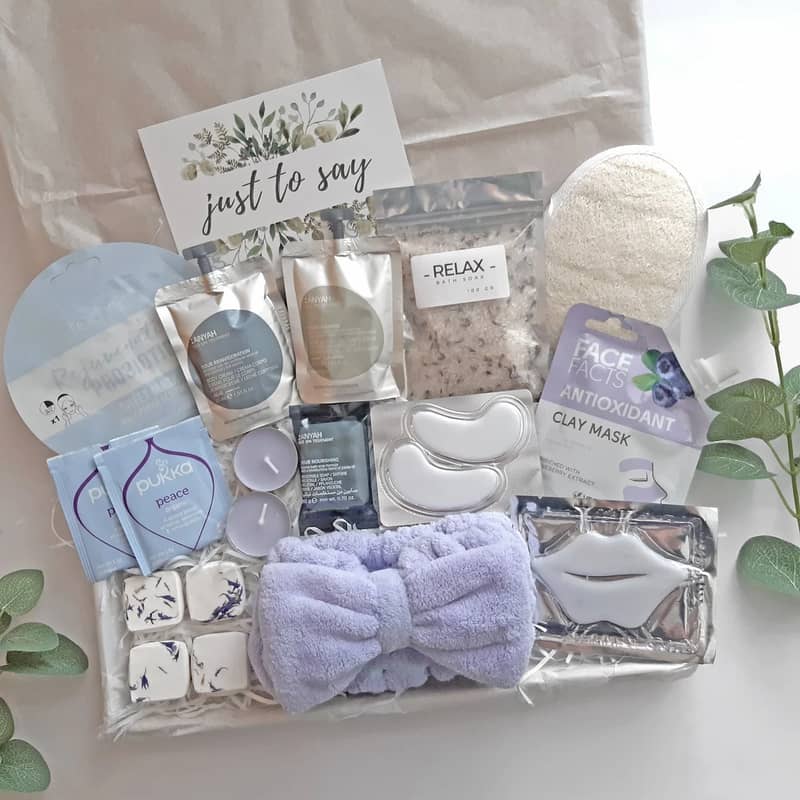 Last week check-in.....
Did you identify any specific reasons why self-care is so difficult for you? Which of the reasons discussed last week resonated with you?
Upcoming week intention......
How can you find ways to make self-care easier to consistently do in your life? Think about adding one self-care practice to your habit list, and try it out for the next couple of weeks to see if it sticks!
Weekly good news to share.....
I love hearing about all the creative ways people are trying to save the earth. This is such a cool idea and can turn waste into something everyone uses! Would you be to take the waste and turn it into things people use like candles and soap! Would you ever consider buying the products they are making? This is the perfect good news to share in honor of Earth Day coming up next week!
Featured blog post of the week......
Everyone has gray days at times, and navigating one can leave you feeling a little out of sorts. Here are some tips to help you easily navigate a gray day, and some encouraging quote phone wallpaper or lock screen downloads for you!
Since you are already signed up for my email list, you don't have to jump through the hoops to download these phone wallpapers! You can get all of them at this link and download any that catch your eye! Enjoy!
One thing I am loving this week.....
Have you heard of the Enneagram personality profile before? It is a surprisingly accurate way to categorize people based on personality types and natural tendencies. You can find out yours here.
I love these types of tests because they help me understand more about myself and how I act or react to the world around me. Sometimes they are scary accurate too! This post caught my eye recently and offers some great personalized insights into each enneagram type and how they best rest and recharge.
As an Enneagram 1/9, I can tell you that their recommendations are accurate for me! Was this accurate to your Enneagram number and how do you like to rest and reset? I would love to have you share over on our Instagram page!
​
Katie
PS: Don't forget to join us on Instagram or Facebook to share your thoughts on our topic this week!
For more info from Kaybee Lives, check out our website or sign up for our weekly newsletter here.